Costa Rica
¡Bienvenido a Costa Rica!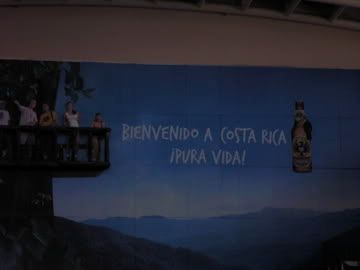 El Mapa de Costa Rica
El Emblema de Costa Rica
La Bandera de Costa Rica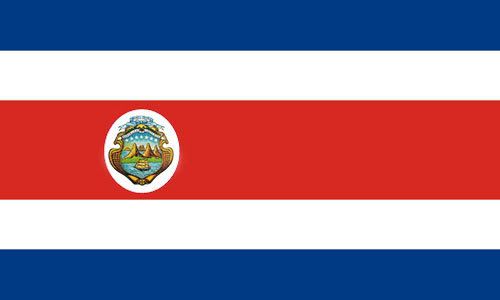 General Information
Alexis Wallick: The official language of Costa Rica is Spanish, although a large portion of the population speaks English. Their official religion is Catholic. Their currency is called the Colon. They have several natural symbols. The national flower is the Purple Orchid and the
national tree is the Guanacaste Tree The national bird is the Yuguirro or Clay- Colored Robin Their national symbol of labor is their Typical Labor Carts.

The official web site of Costa Rica
Interesting videos about Costa Rica
Religion
Jennifer Wood: Approximately 92% of the population of Costa Rica are Christians. The vast majority of Christians in Costa Rica practice Roman Catholicism, but Protestant denominations have been rapidly increasing in popularity. There are a small number of immigrants in Costa Rica who practice other religions including Buddhism, Judaism, and Islam.
Weather in Costa Rica
Costa Rica's ecological diversity is connected to the diversity of its weather and climate. On a recent trip from Drakes Bay to my home in San Jose we encountered sunny blue skies in the morning accompanied by the tropical heat, on the boat ride to Sierpe we road through a large, but short lived downpour with dark skies.
From Sierpe to San Jose we climbed through the Cerro de la Muerte and temperatures that dropped close to freezing at 13, 000 feet, and then dropped down into the Central Valley and its eternal spring like temperatures. Costa Rica Central Valley Hotels
As the locals comment about the Costa Rica weather, If you do not like it just wait a while, it will soon change.
Despite being on the same side of the equator as the United States the Costa Rica people differentiate between summer and winter as if they were in South America. They refer to December through April as the summer because of the clear skies and warm temperatures while the time from May through October is called winter since the rain and wind bring lower temperatures and dampness at higher elevations. Costa Rica Central Pacific Hotels
Generally speaking, the Caribbean is more susceptible to frequent rainsqualls and tends to have the opposite patterns of the rest of the country.
Costa Rica Caribbean Hotels
On the Pacific side the northwest regions of Guanacaste is the driest part of the country and home to the unique Dry Tropical Forest. Costa Rica Guanacaste Hotels
The Southern Pacific region of the Osa Peninsula tends to get the most rainfall but with the exception of the end of September and October, most showers do not last long. Southern Pacific Hotels (link)
Nonetheless, whereas in the past one could expect the rainy season to start predictably about the second week of May, the effects of global warming are being felt and the once consistent weather patterns have becomes much more difficult to predict.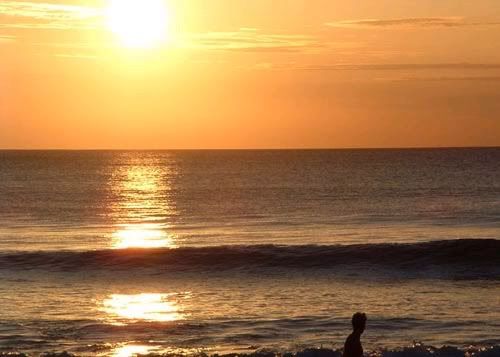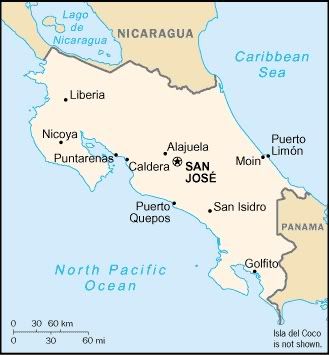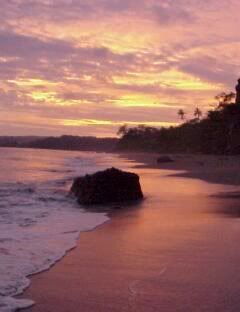 History
Jennifer Wood: Costa Rica was known as the Intermediate Area during the Pre-Columbian Era because it was located between the areas in which the Mesoamerican and Andean cultures resided. The indigenous people of what the Intermetdiate Area had very little influence on the modern-day Costa Rica. Most of the Indians who did not die of disease were abused to death by the Spanish conquistadors who came to the area in the 1500s.
Because Costa Rica was located far from Guatemala City, the main city of Central America during the Spanish Colonial Era, Costa Rica was able to avoid interference by the Spanish Monarchy (The Crown). Unfortunately this also prevented Costa Rica from prospering as a colony. In fact, Costa Rica was the poorest of all the Spanish Colonies in Central America. It took years for Central America to gain independence from the Spaniards.
depiction of Spanish conquistadors
President
Sherry Brideau: Oscar Arias Sánchez is the current president of Costa Rica. In 1987 he received the Nobel Peace Prize for his efforts to end the civil wars then raging in several Central American countries, and currently he is one of the two laureates with this prize who serves as a head of government, along with Prime Minister José Ramos Horta, of East Timor. He served as President from 1986 to 1990, and was elected for a second term in a close election in 2006. He is also a recipient of the Albert Schweitzer Prize for Humanitarianism.
Irazú Volcano
Michelle Gilbertson: Irazú Volcano as seen below, is the tallest active volcano in Costa Rica. Irazú has erupted frequently in historical times—at least 23 times since its first well-recorded eruption in 1723. Since the 1963–65 eruption, the volcano has been dormant, although frequent earthquake swarms show that magma is still moving about beneath the volcano. From the top it is claimed to be possible to see both the Atlantic and Pacific Oceans on a clear day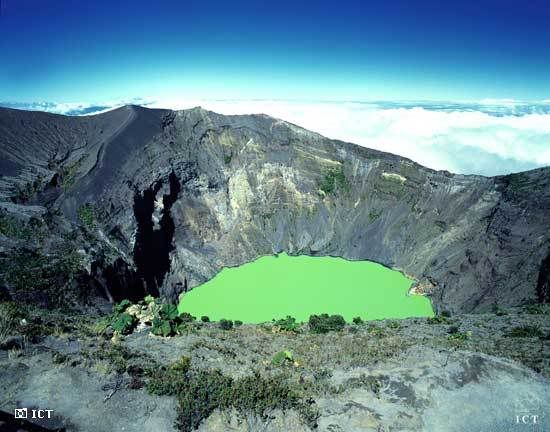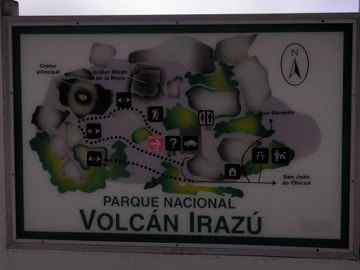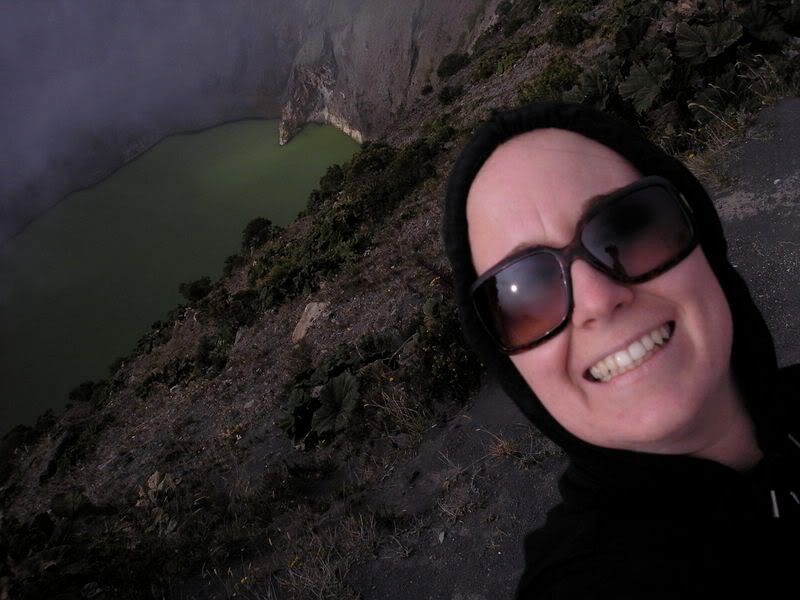 Sherry Brideau at Volcán Irazú
Coffee
Sherry Brideau: Costa Rica is a coffee producing country. Coffee came to Costa Rica in the last decade of the eighteenth century. It became the first Central American country to establish coffee as an industry. The largest growing areas are San Jose, Alajuela, Heredia, Puntarenas, and Cartago provinces. Costa Rican coffee is high in both quality and caffeine content and it is often blended with inferior varieties. The berries are handpicked and go through an extensive process to get to you in your Starbucks cup! There are fields upon fields of coffee plants. (pics below are the fields and the berries that grow on the plant)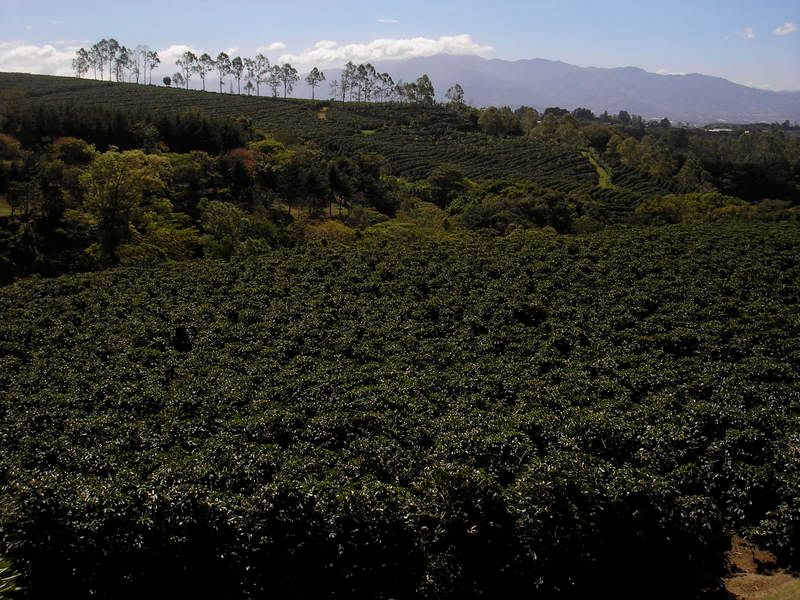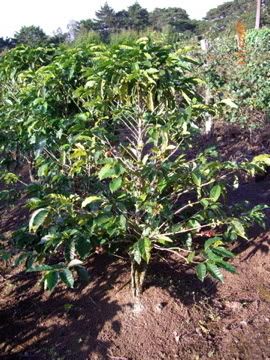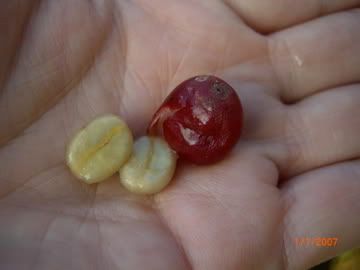 Alcohol
B. Sterling: Guaro leads the list of traditional alcoholic drinks in Costa Rica. It's a generic term for rum, and the taste and quality varies in different parts of Latin America. Some locals insist guaro was invented by the Guaro Indians, but they are so tiny that no one has been able to find them to confirm this. Many find it a potent, even crude spirit. But some tourists go home raving about the stuff. If you want to experience it safely, the main thing to know is to not t drink it straight like tequila: a couple of shots may numb various parts of your body you might have planned to use later in the day.
Guaro, the new white liquor from Costa Rica!Guaro-based mixed drinks usually consist of pouring a shot or two into a glass of Fresca and ice. That's how most Costa Ricans prefer it (except those sleeping in cardboard boxes in downtown San Jose). It also mixes well with other tangy soft drinks, Coke (but not coke!) and fruit juices.
Until this year, all Costa Rican guaros were locally bottled by Cacique. Red label and black label are most common, both with an image of "Quatro Plumas," the four-feathered Indian Cacique (which means "chief"). Blue and orange labels are also available; one is a gin-type booze, but no one who has drank both blue and orange can recall which was which. But now other brands are imported from South America and Honduras, which produce higher quality hooch.
Food
Jennifer Wood: Costa Rican food is influenced by the culinary traditions of Africa, Italy, France, China, and Spain. In Costa Rica, people typically eat 5 moderately sized meals: breakfast, lunch, dinner, and 2 "coffee break" meals, one in the morning and one in the afternoon. Two of the most popular Costa Rican dishes are Gallo Pinto and Casados. Gallo Pinto is a breakfast dish that is comprised of rice and beans which are seasoned with onions, coriander, and Worcestershire sauce. Casado is typically served for either lunch or dinner. It is comprised of white rice, lettuce, fried plantains, tomato salad, beans, and a meat (either pork, steak, or chicken).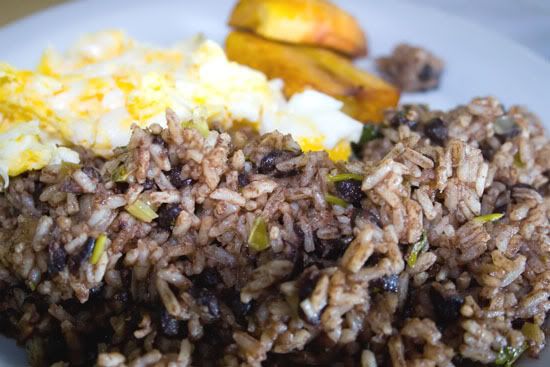 Gallo Pinto (shown above) is usually served with eggs and coffee.
Frutas
Sherry Brideau: Costa Rica grows many exotic fruits. All of these fruits are readily available in markets across the country and are sold at roadside stands on most major highways and thoroughfares. They range in taste from salty to sweet. Some of their fruits are: La mandarina, la sandia, la guanabana, la papaya, la fresa, el banano, la granadilla, la carambola, el pejiballe (one of my favorites…put mayo on it and it is sooo good!), la piña, el caimito, el melon, la guayaba, and el mango verde.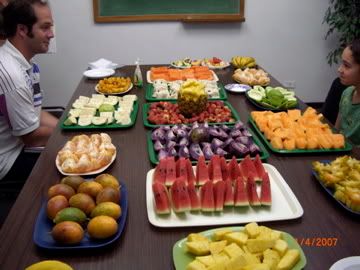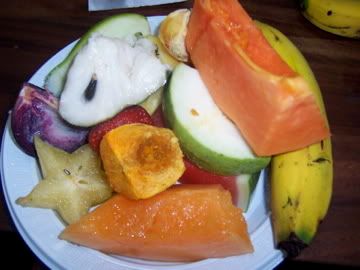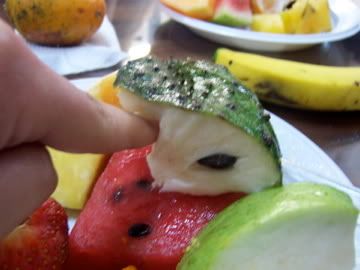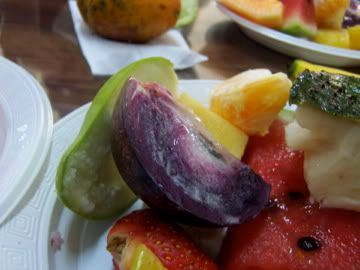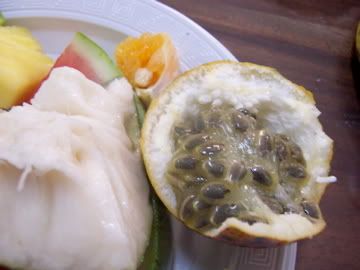 Surfing
Donna Miller: If you'd rather be cruising the surf than peering under it, you could most definitely do worse than Costa Rica. There is a lot of really excellent surfing in Costa Rica but you do have to a bit research as the surf can be inconsistent in some locations. The best time of year to go on a surfing holiday is from December to April as these months promise the best quality waves.
The Pacific coast has the upper hand over the Caribbean when it comes to surfing in Costa Rica. Most of the hotspots are located on the Northern and Central Pacific coasts with a few on the southern coast near Panama and some others on the Caribbean coast.
Miscellaneous Information
Michelle Gilbertson: Costa Rica is possibly the most sanitary of Central American nations. No immunizations are needed for traveling to Costa Rica. If you plan to spend a long time in these areas, prevent an occurrence with a dose of chloroquine (marketed in Costa Rica as Aralen) and begin two weeks before your arrival. There are plenty of farmacias around should you require medicine, but most medications are imported (largely from Europe and the US) and expensive. Costa Rica´s health system is reputed to be among the world´s best.
Sherry Brideau: Men and Women in CR are called tico or tica (masc. and fem.). A popular phrase that they live by is Pura Vida = Pure Life. They tend to use the Usted form of 'you' insted of tú.
Michelle Gilbertson: Costa Rica is home to a rich variety of plants and animals. While the country has only about 0.1% of the world's landmass, it contains 5% of the world's biodiversity. Over 25% of Costa Rica is composed of protected forests and reserves.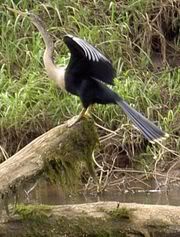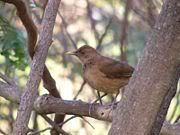 Awesome beach front properties for sale!
Agent: Naomi Umland
SORRY, I accidently deleted your picture, I thought I was replacing mine
Location:
Jaco Beach, 105
Costa Rica
Finished Area: 550 ft2
Built In: 0
Bedrooms: 1
Bathrooms: 1
Description:
Titled Jaco Beach front condominiums is an excellent investment opportunity, the condos have an approximate 550 square feet of high quality construction. This ocean front unit offers one bedroom, large bathroom, inviting entertaining style kitchen, dining room, and bright living room area. The condominiums have vaulted ceilings through out, including a marvelous balcony with the most outrageous view of the Pacific Ocean and tropically landscaped pool area.
Phil H. quiere ir a costa rica.
Alexis Wallick quiere ir a Costa Rica.
Monique Buduan quiere ir a Costa Rica.
Jennifer Wood quiere ir a Costa Rica.
Michelle Gilbertson quiere ir a Costa Rica.
Sherry Brideau fue a Costa Rica.
Naomi Umland quiere ir a Costa Rica
B. Sterling quiere ir a Costa Rica.

+National Symbols
Jenifer Smale
National Flower- Costa Rica did not have a National flower until 1937, when for several International gardens one was required and a National Contest to elect one had to be established. To be elected, the flower should be endemic of America, grow easily in all the country and should be present in the different traditions and ways of life of Costa Rica. The orchid Guaria Morada (Cattleya skinneri) won, and elected as National Flower, being the most cultivated orchid in all Costa Rica.
http://www.grupomawamba.com/costarica/images/orquidea.jpg
Jill Oddo
Handmade Cuban cigars, from cuban artisans, with the quality and flavor that only "De la Familia cigars" can provide. The finest brands, the best prices.
http://tbn0.google.com/images?q=tbn:h8w1MxKzcxnQVM:http://www.crcigars.com/images/newcigarspartagas.jpg
page revision: 77, last edited: 05 Jul 2007 15:06