Panamá
Aquí se puede hablar del país Panamá
Dwight Maxwell
This website provides information on portobello including Black Christ
Provides information on the Canal as well as live camera feeds to different canal areas
Sean Nicholas
Panama Canal map
Panama map
Panama Flag
Shannon Elliott
Pictura de Presidente de Panama. Nombre :Martin Torrijos Espino

pagina sobre de el presidente de Panama
//en.wikipedia.org/wiki/Mart%C3%ADn_Torrijos
History of Panama
Panama was explored and settled by the Spanish in the 16th century. In 1821, under the leadership of the then-colonel in command, José de Fábrega, it broke with the Spanish Crown and joined Simón Bolívar's Republic of Gran Colombia. When this dissolved in 1830, Panama remained part of Colombia.
On 3 November 1903, Panama declared its independence from Colombia. The US Battleship Nashville prevented the Colombian military from sailing to Panama. An invasion through the dense Panamanian jungle was impossible. The President of the Municipal Council, Demetrio H. Brid, highest authority at the time, became its de facto President, appointing a Provisional Government on 4 November to run the affairs of the new republic. The United States, as the first country to recognize the new Republic of Panama, sent troops to protect its economic interests. The 1904 Constituent Assembly elected Dr. Manuel Amador Guerrero, a prominent member of the Conservative political party, as the first constitutional President of the Republic of Panama.
In December 1903, Mr. Phillipe Bunau Varilla –a French citizen who was not authorized to sign any treaties on behalf of Panama without the review of the Panamanians– signed unilaterally the Hay-Bunau Varilla Treaty which granted rights to the United States to build and administer indefinitely the Panama Canal, which was opened in 1914. This treaty became a contentious diplomatic issue between the two countries, reaching a boiling point on Martyr's Day (9 January 1964). The issues were resolved with the signing of the Torrijos-Carter Treaties in 1977.
The original intent of the founding fathers was to bring peace and harmony between the two major political parties (Conservatives and Liberals). The Panamanian government went through periods of political instability and corruption, however, and at various times in its history, the mandate of an elected president terminated prematurely. In 1968, a coup toppled the government of the recently elected Arnulfo Arias Madrid. General Omar Torrijos eventually became the leading power in the governing military junta, and later became an autocratic strong man until his death in an apparent airplane accident in 1981. After Torrijos's death, power was eventually concentrated in the hands of General Manuel Antonio Noriega, a former head of Panama's secret police and an ex-informant of the CIA. Noriega who was implicated in drug trafficking by the United States which resulted in difficult relations by the end of the 1980s came up through the ranks after serving in Chiriqui province and in the town of Puerto Armuelles for a time.
General map of PanamaOn 20 December 1989, twenty-seven thousand US personnel [1] invaded Panama in order to remove Noriega. A few hours before the invasion, in a ceremony that took place inside a U.S. military base in the former Panama Canal Zone, Guillermo Endara (winner of the May 1989 elections) was sworn in as the new president of Panama. The invasion occurred ten years before the Panama Canal administration was to be turned over to Panamanian control, according to the timetable set up by the Torrijos-Carter Treaties. After the invasion, Noriega sought asylum in the Vatican diplomatic mission represented by Monsignor Jose S. Laboa. To induce Noriega's surrender, US forces played loud music outside the embassy which reportedly included the song "Panama," by the 1980s rock group, Van Halen. (WSJ) After a few days, the embassy staff talked loudly for his benefit about the possibility that the mob surrounding them might break through and lynch Noriega. He surrendered to the American military shortly after, and was taken to Florida to be formally extradited and charged by U.S. federal authorities. He is eligible for parole in September of 2007, but the Panamanians want him for trial on charges of murder.
Under the Torrijos-Carter Treaties, the United States returned all canal-related lands to Panama on 31 December 1999, but reserves the right to military intervention in the interest of its national security. Panama also gained control of canal-related buildings and infrastructure as well as full administration of the canal.
The people of Panama have already approved the widening of the canal which, after completion, will allow for post-Panamax vessels to travel through it, increasing the number of ships that currently use the canal.
Panama Portal
Panama's politics takes place in a framework of a presidential representative democratic republic, whereby the President of Panama is both head of state and head of government, and of a pluriform multi-party system. Executive power is exercised by the government. Legislative power is vested in both the government and the National Assembly
-Aimee Gralla
There's lots to do in Panama!
Bird Watching:
Panama is world reknowned for establishing several world bird watching and counting records. Likewise, it has placed within the top countries since 1970 in amount of birds spotted in 24 hours.
The Audubon Society, a scientific institution specialized in the bird watching and conservation, holds the traditional Christmas count by the Panama Canal, dividing this sector up in three: Pacific, Central and Atlantic. The country has over 940 registered species of birds, and these can be found mainly in Soberania National Park, the Metropolitan National Park, Chagres National Park and Darien National Park.
Diving and Snorkeling:
Panamanian waters host an incredible array of diving posibilities almost unknown to many diving enthusiasts.
The Caribbean offers its unlimited coral reefs ofrece en sus incontables arrecifes coralinos, and incredible scenes of underwater life. A true explosion of colours and shapes that amaze even the most experienced and seasoned diver.
Portobelo National Park is the most accessible region also hosting several diving outfits, some of them based in Panama City. The Bocas del Toro and San Blas Archipelagos offer places with unique beauty both above and beneath the surface.
In the Pacific there are great opportunities at the Las Perlas Archipelago. However most sites are located farther away in places such as Iguana Island (wild life preserve), Coiba National Park, the islands of the Gulf of Chiriqui and Montuosa Island.
Last but not least, the third body of water provides a different type of diving, the Panama Canal, with it's lake system. It's possible to dive through historic sites from the times of the Panama Canal construction and the flooding of the artificial lakes.
Visit the casinos:
In Panama, casinos and other forms of gambling are operated both by the government and private enterprises. Earnings from the national lottery are used to support several hospitals and charities. There are a large number of casinos that can be found in the city. The three largest casinos are located at the El Panama Hotel, the Caesar Park Hotel and the Veneto Hotel and Casino.
The Presidente Jose A. Remon horse race track in Juan Diaz is conveniently open from thursday to sunday.
In Panama no gambling profits are subjected to any taxes whatsoever.
Golf:
Panama has the best golf courses in all of Central America. The two most famous are the Conorado Golf Club and the Summit Golf Resort. Coronado is an 18-hole, par 72 course that offers 7,092 yards of professional play. This course is particularly beautiful because of the abundance of frutal trees. This course is considered a jewel for Latin America.
Nested in the wilderness near the Panama Canal, we can find the Summit Golf and Resort. This luxurious complex includes two golf courses, the first of which is an 18-hole course and the second is a children's special course with 6 holes. Summit Golf and Resort is also the only GPS equipped course in Latin America. The Summit Golf and Resort is a 20 minute drive from Panama City.
AND MUCH MUCH MORE!
-Aimee Gralla
Shierleen Raquidan:
A view of Panama City, Panama 4/1/2007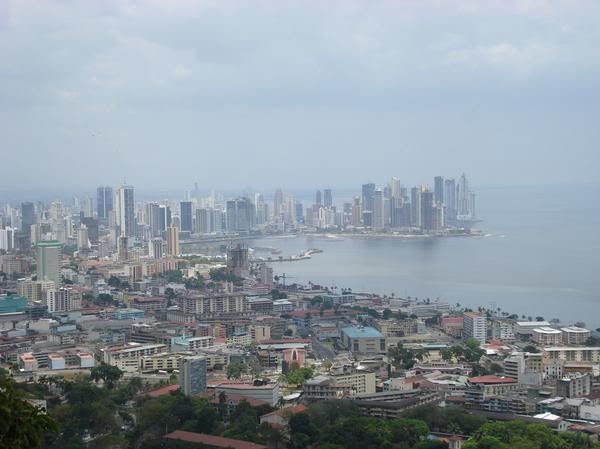 Up on a hill in Ancon, Panama 4/2/2007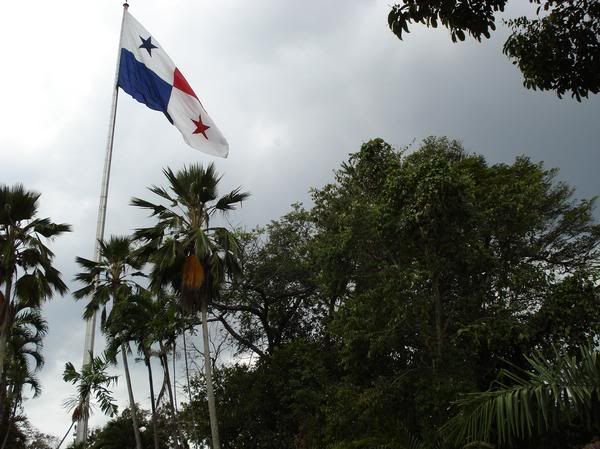 Republic of Panama, República de Panamá. 3,000,463. National or official language: Spanish. Literacy rate: 87% to 88%. Also includes Eastern Yiddish, Hebrew, Japanese (1,200), Korean, Arabic (15,000). Information mainly from P. Cohen 1976; SIL 1970–1998. Blind population: 2,000 (1982 WCE). Deaf population: 159,456. The number of languages listed for Panama is 14. Of those, all are living languages.
The Living Languages are:
Buglere [sab] 2,500 (1986 SIL). Mountains of western Panama. Alternate names: Bokota, Bogota, Bofota, Bobota, Bocota, Bukueta, Nortenyo, Murire, Veraguas Sabanero. Dialects: Sabanero, Bokotá. Classification: Chibchan, Guaymi
More information.
Chinese, Hakka [hak] 6,000 in Panama (1981 MARC). Ethnic population: 30,000 to 60,000 including Cantonese (1981 MARC). Panama City, Colón, larger towns of interior. Classification: Sino-Tibetan, Chinese
More information.
Chinese, Yue [yue] Panama City, Colón, larger towns of interior. Alternate names: Yue, Yueh, Cantonese. Classification: Sino-Tibetan, Chinese
More information.
Emberá, Northern [emp] 10,480 in Panama (2000 WCD). Population total all countries: 23,480. Southeastern Panama, Darién area, lowland jungle. Also spoken in Colombia. Alternate names: Empera, Ebera Bedea, Atrato, Darien, Dariena, Panama Embera, Cholo, Eerã. Dialects: Related languages in order of closeness: Emberá-Catío, Emberá-Baudó, Emberá-Tadó, Epena, Emberá-Chamí, and Wounmeu. Panama and Colombia dialects are inherently intelligible. Northern Embera of the Upper Baudó area and downriver Emberá-Baudó are inherently intelligible. Classification: Choco, Embera, Northern
More information.
Emberá-Catío [cto] 40 in Panama (1982 SIL). Alternate names: Catío, Katio, Embena, Epera. Classification: Choco, Embera, Northern
More information.
Epena [sja] Southeastern Panama. Alternate names: Emberá-Saija, Saija, Epena Saija, Epéna Pedée, Southern Embera, Southern Empera, Cholo. Dialects: Basurudo. Classification: Choco, Embera, Southern
More information.
Kuna, Border [kvn] 700 in Panama (1991 SIL). Southeastern Panama, villages of Paya and Pucuro. Alternate names: Paya-Pucuro Kuna, Kuna de la Frontera, Colombia Cuna, Caiman Nuevo, Long Hair Cuna, Cuna. Classification: Chibchan, Kuna
More information.
Kuna, San Blas [cuk] 57,114 (2000 WCD). Population includes 10,000 in Panama City, Colón, and on banana plantations (1991 SIL). San Blas Islands and on the mainland. Alternate names: San Blas Cuna. Dialects: Chuana, Cueva, Bayano (Alto Bayano, Maje). Classification: Chibchan, Kuna
More information.
Ngäbere [gym] 128,000 in Panama (1990 census). Population total all countries: 133,092. Northeastern Chiriqui, Bocas del Toro, western Veraguas, western provinces. Also spoken in Costa Rica. Alternate names: Valiente, Chiriqui, Ngobere, Guaymí. Dialects: Valiente, Eastern Guaymí (Tolé, Chiriquí). Classification: Chibchan, Guaymi
More information.
Panamanian Creole English [jam] 268,435 in Panama (2000 WCD). Bocas del Toro, Colón, and Rio Abajo in Panama City. Alternate names: Southwestern Caribbean Creole English. Classification: Creole, English based, Atlantic, Western
More information.
San Miguel Creole French [scf] 3 (1999 SIL). Classification: Creole, French based Nearly extinct.
More information.
Spanish [spa] 2,100,000 in Panama (1995). Enclaves of speakers. Alternate names: Español, Castellano. Classification: Indo-European, Italic, Romance, Italo-Western, Western, Gallo-Iberian, Ibero-Romance, West Iberian, Castilian
More information.
Teribe [tfr] 3,000 in Panama (1996 SIL). Population total all countries: 3,005. Northwestern area, Changuinola, Teribe River. Also spoken in Costa Rica. Alternate names: Terraba, Tiribi, Tirribi, Nortenyo, Quequexque, Naso. Classification: Chibchan, Talamanca
More information.
Woun Meu [noa] 3,000 in Panama. Population total all countries: 6,000. Southeastern Panama, lowlands. Also spoken in Colombia. Alternate names: Waun Meo, Waunana, Waumeo, Wounmeu, Wounaan, Noanama, Noenama, Nonama, Chocama, Chanco. Classification: Choco
More information.
Background History:
Explored and settled by the Spanish in the 16th century, Panama broke with Spain in 1821 and joined a union of Colombia, Venezuela, and Ecuador - named the Republic of Gran Colombia. When the latter dissolved in 1830, Panama remained part of Colombia. With US backing, Panama seceded from Colombia in 1903 and promptly signed a treaty with the US allowing for the construction of a canal and US sovereignty over a strip of land on either side of the structure (the Panama Canal Zone). The Panama Canal was built by the US Army Corps of Engineers between 1904 and 1914. In 1977, an agreement was signed for the complete transfer of the Canal from the US to Panama by the end of the century. Certain portions of the Zone and increasing responsibility over the Canal were turned over in the subsequent decades. With US help, dictator Manuel NORIEGA was deposed in 1989. The entire Panama Canal, the area supporting the Canal, and remaining US military bases were transferred to Panama by the end of 1999. In October 2006, Panamanians approved an ambitious plan to expand the Canal. The project, which is to begin in 2007 and could double the Canal's capacity, is expected to be completed in 2014-15.
Country Name:
conventional long form: Republic of Panama
conventional short form: Panama
local long form: Republica de Panama
local short form: Panama
Executive Branches:
chief of state: President Martin TORRIJOS Espino (since 1 September 2004); First Vice President Samuel LEWIS Navarro (since 1 September 2004); Second Vice President Ruben AROSEMENA Valdes (since 1 September 2004); note - the president is both the chief of state and head of government
head of government: President Martin TORRIJOS Espino (since 1 September 2004); First Vice President Samuel LEWIS Navarro (since 1 September 2004); Second Vice President Ruben AROSEMENA Valdes (since 1 September 2004)
cabinet: Cabinet appointed by the president
elections: president and vice presidents elected on the same ticket by popular vote for five-year terms (eligible for two more terms); election last held 2 May 2004 (next to be held on 3 May 2009); note - beginning in 2009, Panama will have only one vice president.
election results: Martin TORRIJOS Espino elected president; percent of vote - Martin TORRIJOS Espino 47.5%, Guillermo ENDARA Galimany 30.6%, Jose Miguel ALEMAN 17%, Ricardo MARTINELLI 4.9%
note: government coalition - PRD (Democratic Revolutionary Party), PP (Popular Party)
Population Growth:
1.564% (2007 est.)
Kuna Women in Playon Chico, San Blas, Panama - Photo by Urs Hauenstein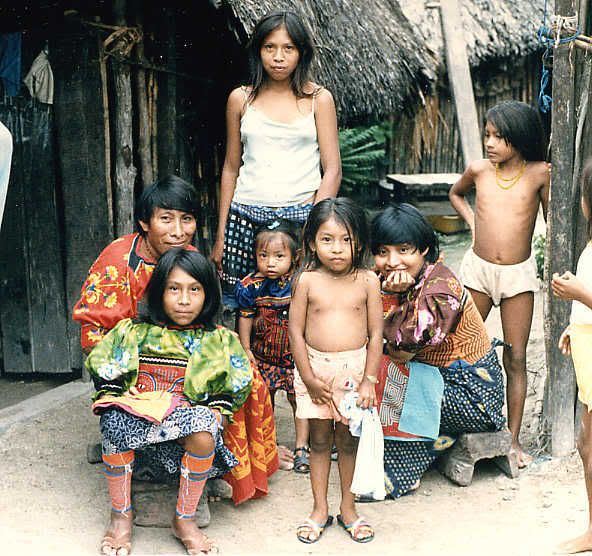 Money of Panamá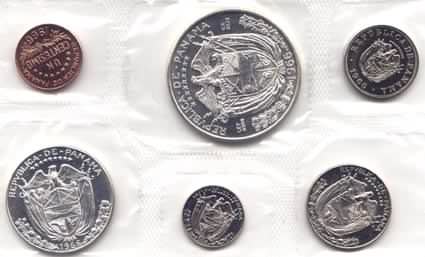 Currency: US Dollar (referred to locally as the Balboa).
History:
The balboa replaced the Colombian peso in 1904 following the country's independence. The balboa has been tied to the U.S. dollar (which is legal tender in Panama) at an exchange rate of 1:1 since its introduction and has always circulated alongside dollars.
-Wendi Jardin
Donna Miller
The Harpy Eagle, Panama's national bird…
The "Aguila harpia" is a very rare animal with an unknown population. This incredibly beautiful and majestic bird weighs from 5-9 kg. (males) and 7-9 kg. (females) with a wingspan of 7 feet (around 2.2 m). This is one of the largest of the 50 species of eagles and can achieve a speed of around 50 mph.
The Harpy Eagle's habitat is the tropical lowland forests like the Darien and is geographically restricted from southern Mexico, through Central and South America down to the northern part of Argentina.
In the wild the diet of the Harpy Eagle consists of small tree dwelling animals such as monkeys, oppossums and sloths.
Its head is pale grey and crowned with a double crest. The back of the animal is black and its underside is white with a black stripe or band going up the chest thus giving it a menacing look to match its reputation.
There is knowledge of about 35 harpy nests in the Republic of Panama, although there are surely more.
The country is willing to save its national bird by leaving it and its habitat alone, and that's a conscious decision that people have to be convinced to make.
Two eggs are usually laid but only one chick hatches after 53-56 days of incubation. This species has one of the longest rearing periods of any raptor; about 2-3 years can pass between the birth of the chick and the next nesting attempt.
Carnival in Las Tablas…(Panama has the second largest carnival after Brazil!)
The Carnival of the City of Las Tablas in the Province of Los Santos, 282 kilometers and 3 and a half hours away from Panama City is recognized as the best carnival in this country. It takes place during February, about 40 days before Good Friday.
On friday before Ash Wednesday everything begins with the selection of the carnival queen and her attendants. The queen then reigns over the daily parade and official activities. It's a true spectacle of beauty and extravaganza of national and international fame. The queens work very hard all year round to raise funds for the expenditures of their glamorous costumes and fireworks.
Donna Miller
Shannon elliott
//en.wikipedia.org/wiki/Panama

Panama Dance
The tamborito is Panama's national dance with its call-and-response vocal phrasing and interlocking drum patterns showing African antecendants. The lyrics tend to be repetitive and, as in West African vocal music, also incorporate proverbs and political commentary.
"El Tamborito" means the little drum and it is more than a dance. The tamborito is contagious. It is an expression of the Panamanian grace, faith, hopes, desires, spirit and soul. It is Panama's typical and folkloric musical theatre. Its intoxicating rhythm and underlying emotions are communicated to all. Its cadences are mixed with the turbulence of jealousy; with the palpitations of pleasure; with the resonance of kisses; with the laughter of deception; with the honey of coquetry; or the pain of sorrow. Breaths come short and fast, spirits soar and yield to an atmosphere bathed in romance, in sensuousness, in love.
The performance displays an elegant and dramatic synergy of singers ("Cantalantes"),dancers and drummers. The performance usually depicts themes of seductive poetry revolving around the joys and anguish resulting from the attraction between men and women.
The native drums of Panama, the "Caja", the "Pujas" and the "Repicador" have special significance in Panama's folkloric tradition. These drums are made of hollow cylindrical wood from local tree trunks covered with tanned velum from thoroughly sun dried cowhide stretched tightly over one or both circular ends of the receptacle, kept taut and wound by hoisting chords made of hide or rope. They are played by beating the head or heads repetitiously in rapid succession of strokes with the hands or sticks to produce reverberating rhythmical sounds.
The "Caja" is a short and squat rhythmical drum that produces staccato like tones. The "Puja" or Pujador gender is masculine. It is a long and marrow deep tone drum that produces booming baselike sounds. The "Repicador" gender is feminine. It is a long and narrow drum that produces sonorous high pitched scaled melodious sounds, which carries the rhythm of the dancers.
And all three of them, played together, diffuse into the atmosphere a symphonic poem.
And how graciously sound the silver voices of the girls as they clap hands to the beat of their song. Their bodies sway in tune with the music and beginning with the "cantaora alante (the soloist) who stands beside the caja, the circle of girls which ends close to the repicador grows slowly smaller.
When dancing the "Tamborito", the dancers sensuous movement and suggestive gestures are usually in response to the pulsating vibrations and rhythmical reverberations of the hypnotic drum beats. A favorite, classic is the "Tambor Empollerado" where Panama's national dress is worn by the dancers. The decoratively frilled and embroidered gown, "La Pollera" is worn by the woman and "El Montuno" is worn by the man. There are many who swear that a woman is more seductive robed in a "pollera" than Venus de Milo disrobed.
-Amanda Chapman
*Jenifer Smale*
Fun Facts
Country name:
conventional long form: Republic of Panama
conventional short form: Panama
local long form: Republica de Panama
local short form: Panama
Government type: constitutional democracy
Capital: Panama
Population: 3,000,463 (July 2004 est.)
Area:
total: 78,200 sq km
land: 75,990 sq km
water: 2,210 sq km
Geography - note:
strategic location on eastern end of isthmus forming land bridge connecting North and South America; controls Panama Canal that links North Atlantic Ocean via Caribbean Sea with North Pacific Ocean
Location:
Central America, bordering both the Caribbean Sea and the North Pacific Ocean, between Colombia and Costa Rica
Land boundaries:
total: 555 km
border countries: Colombia 225 km, Costa Rica 330 km
Terrain:
interior mostly steep, rugged mountains and dissected, upland plains; coastal areas largely plains and rolling hills
Elevation extremes:
lowest point: Pacific Ocean 0 m
highest point: Volcan de Chiriqui 3,475 m
Currency: balboa (PAB); US dollar (USD)
************
page revision: 30, last edited: 05 Jul 2007 21:11